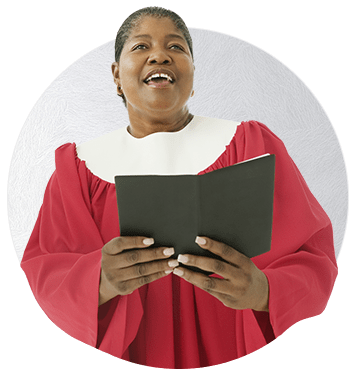 Discount Choir Robes! Everything your choir needs in just a few simple clicks
Beautiful worship at an affordable price here at ChurchChoirs.com, it's our firm belief that liturgical vestments always go far beyond the merely physical. Every cassock, chasuble or robe identifies the role of the wearer in worship, however it also aids the person to enter the true spirit of their worship in order to inspire the assembly. We believe that liturgical vestments are a symbol of communication with God – as soon as you put the right vestment on, your daily cares and worries are left behind as you enter a blessed state.
The ChurchChoirs.com teams recognizes just how important vestments are for worship. That's why we go above and beyond to offer you products which make your worship more beautiful at a much more affordable price. This belief guides us towards making high-quality apparel for church choir at the most competitive prices.
It's our mission to aid you in leading the congregation in their worship thanks to the most suitable clergy apparel and to praise the Lord with beautiful music with quality church Choir Robes. We also help you to celebrate the special day when you join the family of God with baptism apparel and help to remind you of God's presence with church accessories and supplies.
Whether you're a minister, choir member or deacon, our vestments are lovingly crafted to aid your worship.